Welcome to Auberge du Col de Brouis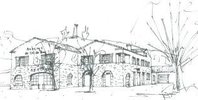 The Auberge du Col de Brouis is situated at the edge of the Mercantour National Park about 30mins drive from the coast.
People come to this little part of paradise to enjoy the fresh air, beautiful scenery and calm atmosphere.
A relaxing stay at the Auberge is always a pleasant break from the busy Cote d'Azur.
Christina(The owner) prepares traditional cuisine in the newly refurbished kitchen, every evening from Thursday to Monday (both days including).
For the guests wishing to do more than just rest, the Auberge is the ideal starting point for a walk through the countryside.
Horseriding, white water rafting, canyonning, and mountainbiking are all close by and can be arranged simply by asking at the bar.
We look forward to seeing you soon!